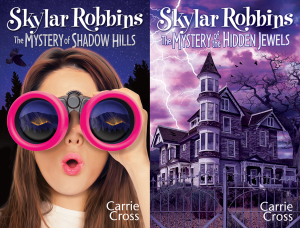 Sign up here to receive new Skylar Robbins mystery announcements, free spy tips, and the chance to win a personally autographed copy of a Skylar Robbins mystery! Just email me at Carrie at skylarrobbins dot com to join the mailing list. Make sure you email me from an address that I can reply to!
If you would like to become a secret agent and help Skylar solve her next mystery, fill out the Secret Agent Application Form (S.A.A.F.). If you have the necessary detective skills to sleuth with Skylar, you will be able to find it. If you are already a Skylar Robbins Secret Agent, remember to include your code name and badge number in any comments you make on my posts.
If you do not receive your Identikit within three days, it is because you emailed from an address that I cannot reply to, and I respect the parental control that may have blocked me from responding. Carrie Cross is very protective of her readers! Parents: please email me at Carrie at skylarrobbins dot com and I will send the Identikit to the address of your choice.
Fans can like Skylar Robbins on Facebook and follow Carrie Cross on Twitter.