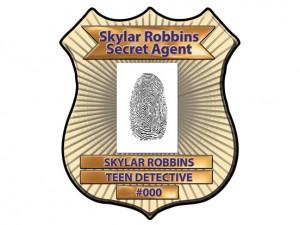 Everyone who read SKYLAR ROBBINS: THE MYSTERY OF SHADOW HILLS knows that Skylar is about to embark on another dangerous mystery: THE MYSTERY OF THE HIDDEN JEWELS. She's up against a threatening gang of bikers who are determined to figure out a string of confusing clues and locate a fortune in hidden jewels before she does, and Skylar needs your help!
Some of the clues are so complex Skylar might not be able to figure them out fast enough on her own, so she'll rely on the help of her BFF Alexa and a few Secret Agents who have learned expert detective skills from reading THE MYSTERY OF SHADOW HILLS.
If you follow the instructions on the last page, decode the secret word, and post your answer on this website, you will receive a special Identikit. Your kit will contain your code name so that you can log on and post clue solutions without revealing your true identity. You will also receive a detective badge like Skylar's, free spy tips, secret codes, and more!
Stay tuned. The adventure is about to begin!