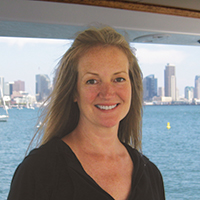 Give us the first five facts (about you) you think of:
1. I'm tall and I have long hair. (OK, that's two, but who's counting?)
2. I love to cook, barbeque, and eat sushi.
3. My dream house would have an ocean view.
4. Blue Jays and squirrels eat peanuts out of my hand in our backyard.
5. I'm obsessed with words. Not just forming them into sentences that turn into paragraphs that end up as chapters and wind up as books. Puns, riddles, making up silly names for things, playing Words With Friends, reading…I just love words.
Your latest book is part of your Skylar Robbins series. Tell us about the series.
Skylar Robbins is a smart, thirteen-year-old sleuth who plans to become a private detective like her grandfather. In The Mystery of Shadow Hills, Skylar is forced to stay at her bullying cousin Gwendolyn's Malibu estate for the summer. She brings her detective kit, portable spy tools, and her journal for taking notes in secret code. On the first day of summer school an odd classmate passes a note in backward writing, introducing Skylar to the secret world of witchcraft. Practical Skylar didn't believe in magic—until the spells they perform in an abandoned garden actually begin to work.
One reviewer likened this book to, "Nancy Drew meets Harry Potter," but the series itself is not about magic. It's about a spunky teen detective who is a compassionate friend with a penchant for finding and solving mysteries. Skylar shows readers creative ways to stand up to bullies, and has inspired more than one group of girls—and boys—to start their own detective agencies. Their pictures can be seen on my website: www.carrie-cross.com.
Teen Mystery Press will publish the second book, Skylar Robbins: The Mystery of the Hidden Jewels, in November. The Mystery of the Missing Heiress and The Curse of Koma Island will follow.
What was your inspiration for the series?
When I was six years old, my parents decided we needed to buy a bigger house. We looked at a creepy two-story in Santa Monica Canyon, and I played hide-and-seek with the little girl who lived there. There were closets and secret hiding places with doors that opened into other rooms. Later I wondered, "What if there was a clue hidden in one of those closets?" I never forgot that house, and it inspired me to write a mystery series featuring a quirky teen detective. That sleuth is Skylar Robbins.
When I write, I use a game I call, "What if?" for inspiration. What if I explored that creepy old house and found it had a hidden floor? What would I find when I got there? What if I used an ultraviolet light in the attic and found a secret message written on the wall in invisible ink? What would it say? What if I discovered a tunnel hiding under some leaves in my backyard? Where would it lead? What if someone scary was hiding at the other end of the tunnel? I put my main character in that type of situation and let my imagination go wild.
What is it about Skylar that makes her a great character for young readers?
Skylar is a rational girl who demonstrates deductive reasoning skills while she deciphers clues during each exciting mystery. She has strength of character and is tenacious, self-reliant, and courageous. In addition, she has a big heart. She's not afraid to befriend the unpopular kids at school, and learns sign language so she can communicate with a hearing-impaired boy in her summer school class. In The Mystery of the Hidden Jewels, she helps her dyslexic BFF deal with her learning disability.
I asked my beta readers for feedback after reading The Mystery of Shadow Hills, and they all seemed to love Skylar's character. Some of their quotes are printed on the back cover of the second Skylar Robbins mystery:
"I love Skylar because she is really brave and does not give up." ~ Miriam W., age 12
"Skylar taught me to choose friends wisely, and don't believe everything anyone tells you." ~ Jared W., age 10
"Skylar shows readers like me that anyone can uncover amazing secrets!" ~ Ella M., age 11
"I learned from Skylar to be fearless. You can do anything if you just try. And trust no one while solving a case, even if you think they are telling the truth." ~ Kalyn M., age 11
What are some of the themes and story elements you touch on in the series?
The kids' quotes in the previous question touch on some of my themes. Skylar is courageous and self-confident, and shows readers the importance of using your brain to determine the difference between reality and fantasy, and between real friends and phony ones. Shadow Hills has the element of witchcraft and magic woven through the story. In Hidden Jewels, Skylar races against a threatening gang of bikers to decipher a string of clues leading to a hidden fortune in jewels. Skylar teams up with the cutest boy in school to solve The Mystery of the Missing Heiress in the third book, and then they travel to a remote location with an unusual group of gifted classmates to investigate The Curse of Koma Island in book 4.
What do you wish more juvenile novels had? Do you try to include those in your books?
I wish more juvenile novels had strong, fearless female protagonists, and I created one in Skylar Robbins. There are some exceptions, like Gilda Joyce, the Gallagher Girls, and Amanda from The Amanda Project series. But unfortunately so many of the 'tween and teen books today have female protagonists that are silly, weak, or suffering from bad parenting. I wanted to create a gutsy hero that readers would cheer for and want to emulate. One who could survive against seemingly impossible odds, and defeat bigger, stronger, more threatening opponents. So far, Skylar Robbins has done just that. And in each mystery, her foes and challenges become more difficult to overcome.
What was your favorite book as a child? Do you think it had an effect on the type of books you write now?
My favorite book as a child was Judy Blume's, Are You There, God? It's Me, Margaret. Not because of Margaret's religious dilemma, but because of its coming-of-age theme. I read that book over and over as a kid who was dying to get her first bra, and who, like Margaret, didn't fill it very well once I had one. Waiting for and wondering when we would get our periods was an exciting time for my preteen friends and me, and as in Margaret's life, "getting it" was a badge of honor when it finally arrived. Margaret got to play "Two Minutes in the Closet" with the cutest boy in school. What a thrill that would have been! All of Judy Blume's books are excellent, but that one is an absolute classic, and it did have an effect on my Skylar Robbins series. During each mystery, Skylar deals with some of the same issues Margaret faced as a girl just entering puberty: fitting in at a new school, feeling left out when she's the last girl to get her period, and crushing on a cute boy.
Describe your perfect writing space.
I enjoy writing anywhere that has a beautiful view. When I write at my dining room table and look up from my computer I can see through trees, across a mountainside, and over a canyon. At night I can see distant neighbors' nights twinkling against the hills. I love to write in bed when it's raining—the harder the better! Throw in some loud thunder and crashing lightning and I'm ecstatic.
My favorite place to write is at the beach in a lawn chair with a pad and pen, or on the patio of a tiny condo we have in San Jose Del Cabo. Looking at and listening to the ocean is so inspirational to me.
I was listening to waves crash when I wrote the following scene from The Mystery of Shadow Hills. Skylar's friend Kat challenges her to search three caves at midnight for magic seeds she promises will grow into gems.
"Sky," Kat cried suddenly, pointing across the black sand. "Look. There they are." I was more concerned about the rising tide, and looked out over the dark rumbling ocean. White spray flew up in the air as another huge wave crashed nearby. So loud it sounded like a refriger­ator fell off a tall building and landed right next to us. I hurried after Kat as the water rushed forward. "This is it. Three caves." Moonlight cast shadows behind the boul­ders that guarded the entrance. We darted around them and climbed under the rock arch.
The dark cave stunk of washed-up kelp, dank and rot­ten. I shuffled forward on the damp sand with my hands out in front of me like a sleepwalker, hoping I wouldn't stumble over a rock or bash into a wall. I pulled out my flashlight and turned it on. As soon as its beam lit up the cave, heavy flies woke up, buzzing around the seaweed and bonking into my face. I ducked, swatting them away. Kat hurried past me and rushed toward the back of the cave, peering at the ground. Suddenly she cried, "Sky—here they are. I found the gem seeds!" Hidden between the boulders, disguised as wet pebbles, shining gem seeds winked up at us.
What's next for you?
I'm currently in the final editing phase of Skylar Robbins: The Mystery of the Hidden Jewels, which Teen Mystery Press will publish in November. I have a rough draft of a third book, The Mystery of the Missing Heiress, and an outline of a fourth, The Curse of Koma Island.
Finally, what advice would you give to your young readers and writers?
Enjoy the writing process and revise, revise, revise. Get as many people as possible to read your manuscript and give you constructive criticism. Don't just rely on family and friends for feedback. They love you and will tell you your book is great, even if it isn't. Find beta readers in your target age group who you don't know personally. For instance, I asked my account base at work if they had children who would be willing to read my book before publication, and emailed the manuscript to those kids. Finally, don't let rejections from agents deter you from getting published. Self-publish if you don't get a contract; you're going to do most of your own marketing anyway. Calvin Coolidge said it best: Persistence and determination alone are omnipotent!
Thank you, Indie House Books for the nice interview.