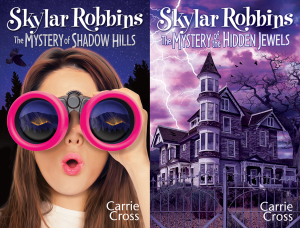 Enter to win my Goodreads giveaway! Ten free personally autographed copies of Skylar Robbins: The Mystery of Shadow Hills will be given away in December.
Moms and Dads: Want to get your 'tweens hooked on books? The Mystery of the Hidden Jewels releases 12/9, Read Tuesday. Preorder a personally autographed copy through www.carrie-cross.com and receive a free pair of kids' binoculars to start your child's detective kit!
Click the button below to enter to win a copy of Book 1!