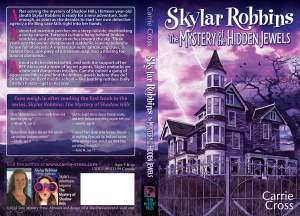 5.0 out of 5 stars Gifted book for honest review. juliesbookreview.blogspot.com, January 26, 2015
By Theresa F – See all my reviews
Our favorite 13 yr-old super sleuth is back and better than ever!!!
After a fun, intriguing summer, Skylar is back and yet again more changes have come into her life. Her dad was lucky enough to sell his non-alcoholic cough syrup, while in Paris over the summer. This means a move to a bigger house!!! Skylar just wants to a house still close to her bff, Alexa and in the same school district. I mean really, what 13 yr old wants to start middle school in a new school???
House hunting becomes a bore, UNTIL they reach a mansion sitting on a steep hillside, dark storm clouds are looming over this deserted, abandoned home. The windows are cracked, screens torn, shingles missing and birds have made the inside their home. Yet, this place calls to Skylar. . . . there of course is a mystery behind it. The owner, Xandra Collins, disappeared without a trace three years ago. Xandra has hidden jewels buried somewhere on her estate. Her heirs have searched and no luck. NOW, it's Skylar's turn, she is excited and soon starts turning over clues. . . . But, the question is, will she find them before someone else does???
I can not express enough how much I love the Skylar Robbin books!!! Carrie hits the mark on excitement and laying the story out. It's an easy read for any teen, I am sure they will be sucked in as quick as us adults are. Thank you for another great novel and I look forward to the next book!!
5 super sleuth stars