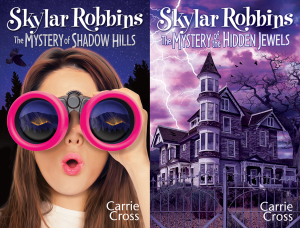 5.0 out of 5 stars
Very fun read, full of great information!
, February 28, 2015
Very fun read. The main character is believable and likable, has typical angst and emotional questions of a teen. Her circumstances are fun, full of questions teens have, problems teens have and solutions you as an adult hope the teens will arrive at. I thought the whole of the book was fun and would read more of this character as she progresses. Many life issues are worked through, solved and discussed in a great way.
5.0 out of 5 stars
I LOVE Skylar Robbins!!!
, February 26, 2015
I am 10 years old and I just finished reading both books. I am now
interested in sign language and mysteries. I am trying to study sign
language and get better at it. I REALLY want to read the next book. When
will it be done? My Grandma and Grandpa gave me your AWESOME books.