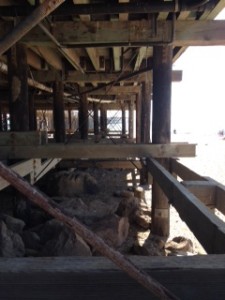 Calling all secret agents! Skylar needs your help to solve her next case: The Mystery of the Missing Heiress. Three years ago, millionaire Xandra Collins disappeared "without a trace." Detective Skylar knows that everyone leaves trace evidence, and sets out to solve the mysterious disappearance.
After deciphering a series of complicated clues, Skylar locates Xandra's diary, which is filled with riddles and poems. Skylar realizes these poems contain clues and needs your help to decode them. What could this mean? Please post your guess in the comments using your Secret Agent code name.
Beneath the pier is dark and deep.
Water cold and still I weep.
Secrets locked inside a box.
Seven rocks by seven rocks.