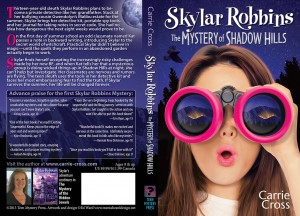 ENTER here to win a personally autographed copy of Skylar Robbins: The Mystery of Shadow Hills, described by reviewers as, "The New Nancy Drew."
Fans of Nancy Drew and Harry Potter alike will love this fast-paced blend of detective action, mystery, witchcraft, and magic. The main character is a strong, intelligent teen sleuth who has a unique, multi-cultural group of interesting classmates.Thirteen-year-old sleuth Skylar Robbins is horrified to learn that she'll be stuck at her bullying cousin Gwendolyn's creepy mansion for the summer. Soon after she moves in, her new friend Kat introduces her to witchcraft. Practical Skylar is skeptical, until the magic appears to start working.Is Kat a real middle school witch and a true friend, or is she just interested in the cute stable boy? Did she use magic to control Skylar's body, or was it all part of a complicated hoax? Who or what is making those terrifying noises up in Shadow Hills at night?Armed with her detective tools and a huge dose of courage, Skylar braves her deepest and most personal fears to find the truth. The end of the book perfectly sets up the sequel; this is going to be a strong series for teens and 'tweens.It's time to get your kid, your Kindle, and Skylar Robbins together!By Stephen Cody

Skylar's a great role model for girls. She's smart, sassy, and has an unquenchable thirst to find things out. Oh, and she's really good at solving mysteries. If you have a Kindle and a kid, get this book. Your kid is going to love making Skylar her new buddy.

By Amazon Customer on December 16, 2014
What could be more interesting than a detective story mixed with witchcraft and a touch of magic?