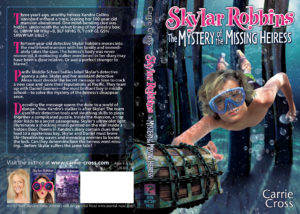 CONTENTS
Nerves
Confrontation
The Diamond
A Test
Daniel Gannon
Secret Code
WHERE HOTTY?
The Principal's Office
ACE
Decoding the Secret Message
"You're ditching?"
Totally Annoyed and Completely Attracted
A Trap Door in the Library
Secret Passageway
Horrible Mural
In the Black Light's Glow
A Clue in an Article
3 Palms at 10
Threatened
A Map in the Door Handle
Secret Weapon
PMS
Partners
Jealousy
A Fake, Pretend Member
Daniel's Challenge
7 x 17 x 37
No Time to Run
Inside Daniel Gannon's House
Xandra's Diary
Broken
Coded Clues
The Hidden Message
A Mysterious Key
AFX
Clues in the Diary
Rage
Honesty
The Pier
Seven Rocks by Seven Rocks
The Locked Box
A Shocking Call
The Kiss
Registered Letter
A Limousine Ride to a Secret Location
Solving the Case
Broadcast
The Curse of Koma Island
www.Pacific_Chicks.com
7:05 a.m. Ruthcat:
Welcome back Pacific middle school Tigers!
7:06 a.m. Double D:
Tigers rule! Undefeated in hoops—Yeah Baby 😉
7:08 a.m. Madpat:
Check yourself. Did U get the diamond? Don't be a left-out.
7:10 a.m. Trishbliss:
What Diamond?
7:11 a.m. Anonymous:
What dinomd? Duh—THE dinomd.
7:15 a.m. Ruthcat:
TB, ignore Anonymous. Hey Dummy—we all know who can't spell.
7:16 a.m. Double D:
True dat.
7:22 a.m. Madpat:
Anonymous: Watch ur back.
7:24 a.m. Anonymous:
O now Im scraed.
7:25 a.m. Madpat:
U shd b. It's on.
7:35 a.m.  Anonymous:
Yeah, right. LOL. Bring it.
Chapter 1: Nerves
The first day of school always makes me nervous. I worry that I won't find my classrooms on time and I'll walk in late while everyone laughs. To make things worse, on the first day of the Spring semester of seventh grade, it was pouring. I mean really pouring. I'd looked forward to going back to school all through Christmas vacation, hoping I would have some cute boys in my classes. Specifically, the one I'd been crushing on for three years: Dustin Coles. Plus, nice teachers and as few mean girls as possible. But a horrid thought was rattling around in my brain. Would I be stuck with the bully crew in my core subjects—or worse, gym class? Seeing them online on our school's underground website was bad enough. Sharing classrooms with those girls would be my worst nightmare. I couldn't wait to get back to Pacific to see who I'd be spending the semester with: friends, or enemies?
Outside, the rain pounded down, bouncing up off of puddles in the yard and sheeting down our kitchen windows. While I ate a bowl of cereal, I worried about what would happen when I walked onto campus. Ever since I solved my last case, my mom, dad, students at my school—basically everybody has given me a bit of a hard time. Reporters call me everything from "the teen sleuth" to "the 13-year-old genius." How embarrassing.
Truthfully, I think they're all a little jealous. The adults: because I decoded a bunch of clues and dug up a hidden jewelry box that they should have been able to find, but couldn't. Everyone else: because I got attention, was interviewed on TV, and got to keep the jewels. Not that I could sell them or anything until I turned eighteen. They were locked up in a safe, and I was still just regular Skylar Robbins, teen detective. To be honest, I wished everyone would just forget about it. Unlike some of the girls at Pacific, I didn't enjoy all the attention. Except maybe from one particular extremely cute boy.
"Ready?" My mom trotted down the last few stairs. Her briefcase was in one hand and she smoothed down her shoulder-length, brown hair with the other. Mine was darker and much longer, and I twisted it around one hand impatiently while I waited for her. "Have everything you need, like an umbrella?" she asked me.
"Yes. Umbrella, laptop for lessons, spiral notebooks for taking notes, pens, bus money for the ride home." My Porta-detective kit was shoved in the bottom of my backpack in case I discovered clues to a new mystery, but she didn't need to know that.
Made of metal and covered in pink leopard spots, my Porta-detective kit contained smaller versions of my most important spy tools. Mini-mag glass, and tiny binoculars. A round mirror disguised as a compact was perfect for spying on people behind me. And my Uniprinter. This was a one-inch square stamp pad with black ink and a tiny tablet of paper attached to the back, useful for taking a single fingerprint.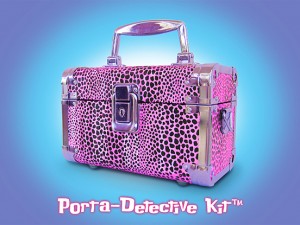 I glanced at my watch. "Mom. We need to leave, like right now."
While we headed for the garage, I thought about my detective agency. I'd always figured my first big case as a professional sleuth would be an easy one. Finding a missing pet, solving a petty theft, or spying on someone's boyfriend to see if he were cheating. Nothing that would get me in trouble, put me in danger, or change my life forever. Well, I was wrong. Way wrong. And as soon as I'd located the hidden jewels, a much more challenging mystery fell into my hands.
Three years ago, the famous heiress who'd owned and hidden the jewelry box mysteriously disappeared. The only child of an oil tycoon, Xandra—pronounced Zandra—had inherited millions. She donated huge amounts of money to charity, and she had dated more than one celebrity bad boy. Then suddenly, she went missing. The media loved her, and they reported that she hadn't left a single clue behind. The police reports agreed that Xandra Collins had disappeared without a trace. Her hundred-year-old mansion was abandoned. Three years later, my parents bought it.
Well, I know one thing from the detective skills my Grandfather taught me: It is almost impossible to disappear without leaving a trace. And if anyone could find a shred of evidence, it was going to be me.
I would end up risking my life trying to solve the mystery of the missing heiress. And worse than that, without meaning to, I'd put my friends in mortal danger too.
Keep on the lookout for this new Skylar Robbins mystery, coming soon in paperback on Amazon.