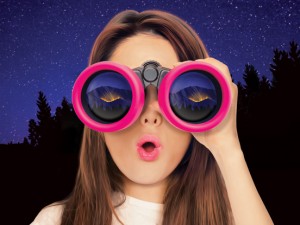 My name is Skylar Robbins and I'm a 13-year-old detective–kind of like Nancy Drew in the books your mom probably read when she was our age. Except I like things to move a lot faster, school is way harder than it was back then, and I use my binoculars to spy on cute boys while I'm looking for clues. (Please don't repost that.)
I knew I wanted to be a detective ever since I was little. My grandpa used to be a cop before he went undercover. He taught me how to capture fingerprints using charcoal-colored powder, thin strips of clear tape, and a soft brush. You probably learned how to lift prints in THE MYSTERY OF SHADOW HILLS. He taught me all sorts of other tips and tricks for finding clues and solving mysteries, and I'll share them all with you.
I solved THE MYSTERY OF SHADOW HILLS this summer while I was stuck at my cousin Gwendolyn's Malibu estate. She had bullied me since we were kids, until something horrible happened and she needed me more than ever. After I solved THE MYSTERY OF SHADOW HILLS, I started my own detective agency, hoping for another big case. Then my parents decided to buy a new house, and a new mystery fell right into my hands. The previous owner had mysteriously disappeared, leaving behind a fortune in hidden jewels and a bunch of clues that seemed impossible to decode. At first.
When my parents started to remodel the abandoned mansion, I knew there was going to be trouble. A scary gang of construction workers wanted to find the jewels before I did, and they started to threaten me. But I wasn't about to give up.  One thing I know for sure: The Skylar Robbins Detective Agency (with the help of my BFF Alexa and my Secret Agents) is going to solve THE MYSTERY OF THE HIDDEN JEWELS and find Xandra Collins's missing jewelry box–if it's the last thing I do.