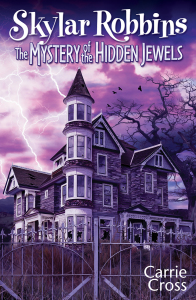 SKYLAR ROBBINS: THE MYSTERY OF THE HIDDEN JEWELS, Book 2 in the Skylar Robbins Mystery Series, will be out in paperback on December 9, 2014: Read Tuesday!
Be one of the first 20 people to preorder your personally autographed copy through my website, and receive a FREE copy of book 1: SKYLAR ROBBINS: THE MYSTERY OF SHADOW HILLS! Makes a great holiday gift for a boy or girl, ages nine and up.
To preorder, leave a reply (below), fill in the contact form on my website, or send me a personal message on Facebook. Stay tuned for a free sneak preview (Chapter One) coming soon!