Skylar Robbins: The Mystery of Shadow Hills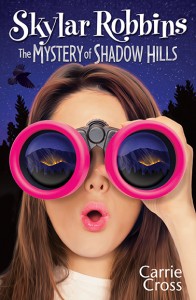 Thirteen-year-old sleuth Skylar Robbins plans to become a private detective like her grandfather. Stuck at her bullying cousin Gwendolyn's Malibu estate for the summer, Skylar brings her fingerprinting kit, portable spy tools, and her journal for taking notes in secret code. She had no idea how dangerous the next eight weeks would prove to be.
As soon as Skylar gets to Malibu, mysterious things begin to happen. She discovers a hidden garden behind a rusted gate in Gwendolyn's huge back yard. Her new friend Kat, who claims to be a witch, recognizes magical elements throughout the garden and declares it the perfect place to perform spells.
"We are going to grow gems."
"Grow what?" There was no way I heard her right.
Kat's eyes gleamed. "Gems. You know, rubies, emeralds, sapphires? Gems!"
Ignoring the rising tide, they sneak down to the beach at midnight and search three caves for magic seeds to plant in the abandoned garden. Practical Skylar didn't believe in magic. Until their spells begin to work.
Skylar Robbins: The Mystery of Shadow Hills has been a #1 Best Seller in Children's Detective ebooks, Children's Fantasy & Supernatural Mystery ebooks, Children's Sword & Sorcery Fantasy ebooks, and Children's ebooks: Mystery & Detectives/Spies.
5 stars: Spellbinding! Review by GemTones on November 15, 2014 Fans of Nancy Drew and Harry Potter alike will love this fast-paced blend of detective action, mystery, witchcraft, and magic.
---
Skylar Robbins: The Mystery of the Hidden Jewels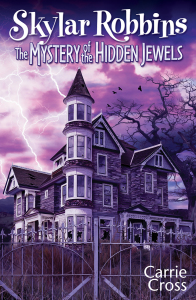 A deserted mansion perches on a steep hillside, overlooking a rocky canyon. Tattered curtains hang behind broken windows, and a turret stretches toward the sky. Three years ago the wealthy owner disappeared suddenly, leaving behind a house full of secrets: A mysterious note, tantalizing clues, a hidden floor, one piece of a treasure map, and a missing fortune in diamonds.
Thirteen-year-old sleuth Skylar Robbins moves into the mansion with her parents and embarks on a new and dangerous mission. Armed with her detective kit, and with the support of her BFF Alexa and a team of secret agents, Skylar sets out to decipher the clues and find the diamonds. Can she outwit a gang of aggressive bikers and find the hidden jewels before they do? Or will the perils of middle school–like battling ruthless bully Emelyn Peters for the attention of class hottie Dustin Coles–get in her way?
---
Skylar Robbins: The Mystery of the Missing Heiress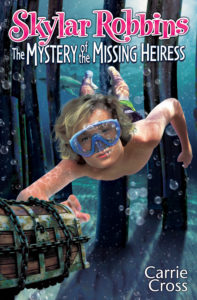 Three years ago, wealthy heiress Xandra Collins vanished without a trace, leaving her 100-year-old mansion abandoned. One mind-bending clue was hidden underneath the velvet lining of her jewelry box: GL URMW NB WR@+B, BLF NFHG TL Y@XP GL GS% SRWW%M U&LL+
Thirteen-year-old detective Skylar Robbins moves into the multi-level mansion with her family and immediately takes the case. The heiress's body was never recovered. A menacing stalker mentioned in her diary may have been a close relative. Or was a perfect stranger to blame?
Pacific Middle School bullies label Skylar's detective agency a joke. Skylar and her assistant detective Alexa must decode the secret message in time to crack a new case and save their reputations at Pacific. They team up with Daniel Gannon—the most brilliant boy in middle school—to solve the mystery of the heiress's disappearance.
Decoding the message opens the door to a world of danger. Now Xandra's stalker is after Skylar! The team uses their detective tools and sleuthing skills to piece together a complicated puzzle. Inside the mansion, a trap door leads to a secret passageway. Skylar's ultraviolet light illuminates a shocking mural, painted on the wall inside a hidden floor. Poems in Xandra's diary contain clues that lead to a mysterious key. Skylar and Daniel must brave treacherous waves and threatening enemies to locate the lock. Can they determine how the heiress went missing…before Skylar suffers the same fate?
---
Skylar Robbins: The Curse of Koma Island
Coming in 2019