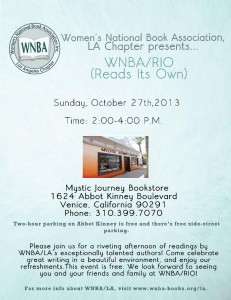 Hello Skylar Robbins fans! I will be appearing live and reading from SKYLAR ROBBINS: THE MYSTERY OF SHADOW HILLS on October 27 in Venice, California!
Please come on down to the Mystic Journey Bookstore at 1624 Abbot Kinney Blvd. between 2:00 and 4:00 p.m. tomorrow. Several well-known authors will read excerpts from their books, which will be available for sale after the reading. The event is FREE, and delicious snacks will be served.
So stop by and support a local bookstore, buy an autographed copy of a new book, or just snack and socialize with authors and fellow book lovers. Hope to see you there!