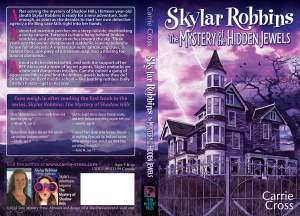 My second Skylar Robbins mystery just went live on Amazon. Get it in time for the holidays!
A deserted mansion perches on a steep hillside, overlooking a rocky canyon. Tattered curtains hang behind broken windows, and a turret stretches toward the sky. Three years ago the wealthy owner disappeared suddenly, leaving behind a house full of secrets: A mysterious note, tantalizing clues, a hidden floor, one piece of a treasure map, and a missing fortune in diamonds.
Thirteen-year-old sleuth Skylar Robbins moves into the mansion with her parents and embarks on a new and dangerous mission. Armed with her detective kit, and with the support of her BFF Alexa and a team of secret agents, Skylar sets out to decipher the clues and find the diamonds. Can she outwit a gang of aggressive bikers and find the hidden jewels before they do? Or will the perils of middle school–like battling ruthless bully Emelyn Peters for the attention of class hottie Dustin Coles–get in her way?
Here's what one reviewer had to say:
5 stars: A real gem!
By JV on December 6, 2014
Carrie Cross has created a jewel of a story with Skylar Robbins: The Mystery of the Hidden Jewels. A follow-up to Skylar Robbins: The Mystery of Shadow Hills, in Ms. Cross's latest book, Skylar is now fully teenaged: more assertive, technologically savvy and into boys. It was fun seeing how Skylar has matured as she embarks on her latest adventure – solving the whereabouts of an heiress's missing jewels. All while dealing with the trials and tribulations of adolescence. And with some bad guys looking for the same thing, it becomes a race against time as Skylar tries to stay one step ahead of the bad guys (and some mean girls at school). In this latest edition of the Skylar Robbins Detective series, Ms. Cross captures a young person's curiosity which will surely inspire young readers. As an adult reader, while I would've appreciated a little more rising tension in the plot, I found that the story was a wonderful reminder of the enthusiasm only a teenager can have.